NEW

- View Idaho Section Monthly Zoom Meetings HERE NEW


ARRL Idaho Section
Video of Rescue Involving Idaho Ham Radio
Check out the video HERE.


Idaho Winlink Wednesday
Check into the weekly WINLINK net. Every Wednesday is Winlink Wednesday. You can check in any time during the day Wednesday via Winlink either via Telnet, HF or VHF radio. We are always looking for more checking. Get all the info you need at THIS LINK.

Polly Smith KG7DPO New Idaho PIO

The Idaho ARRL has a new Public Information Officer (PIO). Polly Smith KG7DPO was appointed the the position by Idaho SM Dan Marler K7REX. Her appointment is effective immediately. To contact Polly email her at KG7DPO@ gmail.com.


New Idaho Parks Added to POTA
Please share with your interested ARC members and remind them to download the complete list of Idaho Parks from the POTA website
Thx and 73
(11/1/2023) Greetings all, the POTA admin team has allowed us to add new parks. In Idaho we have added 8 new wilderness areas, 6 new BLM herd management areas, 6 national scenic byways, two state airstrips, two wild and scenic rivers, Big Southern Butte, Experimental Breeder Reactor - 1, and will soon be adding nearly 20 state and national fish hatcheries
. There are new POTA Parks now in every corner of the state bringing us up to 177 or so parks.
W7IMC Scott
POTA Volunteer Mapping Coordinator Idaho

Don Gardner W7PJ New Idaho SEC

Idaho SM Dan Marler K7REX has announced that Mike Neelon, WA7MGN will no longer be Idaho Section Emergency Coordinator (SEC). Mike has excepted a new Emergency Manager position in Oregon and will be moving soon. Marler said, "I am tickled pink for Mike; this is something he and his wife has been wanting to do for sometime now. Mike, you done did good."

Marler says he is pleased and excited to announce that Don Gardner, W7PJ will be moving up from his ASEC position to be the new SEC for Idaho. Rob Blout, KA7ERV will be the new ASEC and will be working with Don.

ARRL Announces New Awards

The ARRL has two new awards available to members One is a FIRST CONTACT award for new hams who made their first contact. The second is a MENTOR AWARD to be given to those who help the new hams. Both are PDF Fillable documents. Click on the above links to find out more.


ARRL Votes To Raise Member Dues

Click HERE for details on increased dues for ARRL membership.


Video to Help You Navigate This Site!

If this is your first visit to this site there is a video you can watch to see the features. Click on the link below!
CLICK HERE TO WATCH THE VIDEO
Help Your Radio Club With CA$H!
Click HERE to find out more!
Idaho Gov. Proclaims Idaho Amateur Radio Week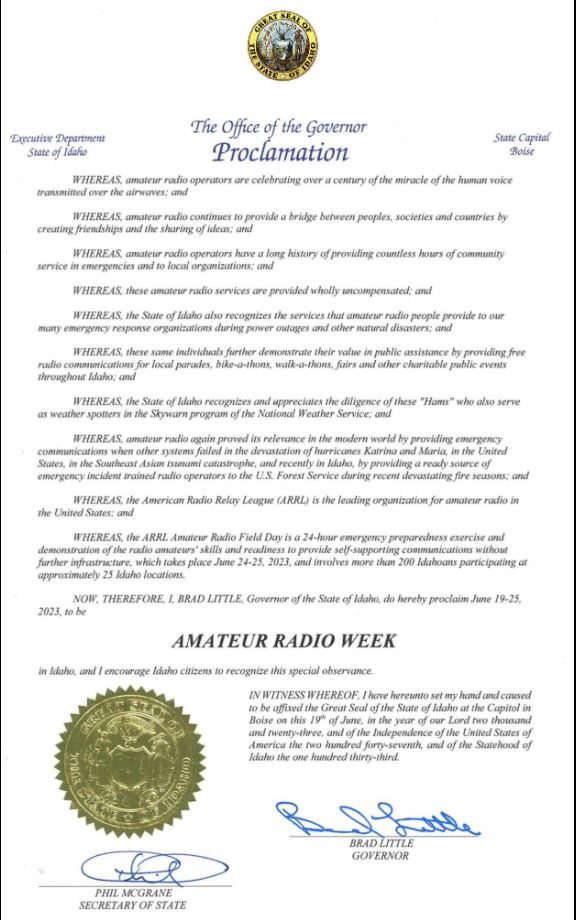 Idaho Hams Get New License Plate
Idaho Governor Brad Little has signed House Bill 107 which authorizes a new look for ham radio license plates for Idaho radio amateurs. The new plates will be available soon.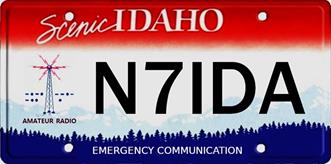 Here is a link to HB-107.
Here is a link to the form you must fill out to get an Idaho Amateur Radio license plate.
Volunteers On The Air (VOTA) – Idaho
2023 is being celebrated by ARRL as "The Year of the Volunteer." The first adventure has been announced as a project called "Volunteers On The Air (VOTA)." ARRL members get 'points' for each contact they make with another ARRL volunteer or member. So, if two ARRL members contact each other, they will each receive a point for that QSO. No special codes are required, no sequence numbers need to be exchanged, and no section information needs to be passed. Make contact with a fellow ARRL member, and you each receive a point. Both of you must upload the QSO to the Logbook of The World (LoTW) to receive the points. Your points are calculated when the QSO is matched. This could be an FT8, CW, simplex 2M FM, RTTY, or an SSB rag-chew contact.
To add more interest to the year-long operating event and help demonstrate the ARRL volunteer value, each level of volunteer activity has been assigned a point level which is shown in the table below. For example, if you contact Dan Marler, K7REX, the Idaho Section Manager, you'll get 175 points for that one contact.
So, get your HF gear running, make sure your LoTW connection is working, and see you on the air!
VOTA Program Rules
These rules will be extended or revised, so please return here to check for updates. This operating event starts January 1, 2023, at 0000Z and ends December 31, 2023, at 2359Z. This event is for ARRL members. You can join or renew online at https://arrl.org/join/. All QSOs must be uploaded to the ARRL QSO matching system, Logbook of The World (LoTW). No repeater contacts are allowed. Contacts can not be made on the 12 M, 17 M, 30 M, 60 M, 630 M, or 2190 M bands. All other bands can be used. Contacts can be made on any legal mode of operation. You receive 'points' based on the volunteer level of the ARRL member you contact. Points range from 1 point for an ARRL member to 300 points for ARRL President Rick Roderick K5UR. The point levels are listed below. Each QSO will get only one point value. For example, someone who is a member, a life member, and an Assistant Section Manager will be worth the value of the highest role, 35 points, for the ASM role. Stations can contact each other once per band per operating mode: CW, Digital, Voice. So, each operator pair can count up to 3 QSOs on each band, one per mode.
Logbook of The World (LoTW)
The reporting for this VOTA effort will be handled automatically by the ARRL Logbook of The World (LoTD) QSO matching system. If you already log your QSOs from your favorite logging software and it uploads them to LoTW, you will automatically be participating. Your QSOs will be verified normally, and the callsigns of the hams you work will be searched to find the appropriate points (table shown below) that you receive for each QSO.
Setting up Logbook Of The World
If you aren't set up to use LoTW, now is the time to set it up. The LoTW quick-start page is a great place to start, and the "What is LoTW Document" explains the whole process. You must authenticate yourself with the system by receiving a postcard mailed to your FCC-registered address. The TSQL program is used by your logging program, N3FJP, N1MM, DX Lab Suite, or something else to authenticate and upload to LoTW.
If you need help setting up your LoTW account, watch some YouTube videos, or contact your Elmer, or a local club. If that fails, contact us and we'll find someone to help you.
W1AW/7 Portable Operations
As a part of the Year of the Volunteer celebration, the mystical callsign W1AW will be used portably to the corners of ARRL-land. Members in each state/territory will be asked to operate their stations for two different weeks using the callsign W1AW/x where x is one of the local regions: 0, 1, 2, 3, 4, 5, 6, 7, 8, 9, KL, KH0, KH2, KH6, KH7, KH8, KP2, KP3, or KP4. For example, Idaho's first week starts March 8, 2023, at 0000z and will run through March February 14, 2023, at 2359z, using the callsign W1AW/7. Each state coordinator will approve the time/band/mode slots throughout the week, and hams can operate their stations using W1AW/x. You can schedule your Idaho operating time by contacting ND7L@arrl.net.
Traveling W1AW/7 Idaho rules include:
Remember that each operator must follow the rules for their license class. Stay in the sub-bands that you're legally allowed to operate in.

Operators can operate from anywhere in the state.

Members that contact the portable W1AW stations will receive 5 points for those QSOs.

Each band/mode combination can be activated simultaneously. For example, K7REX could be working on 20 M SSB, KA7T could be working on 20 M CW, N7UVH could be working on 20 M FT8, and ND7L could be on 40 M SSB, all at the same time.

State operations start at 0000z each Wednesday.

State operations stop at 2359z the following Tuesday.

Operations should not happen on the 12 M, 17 M, 30 M, 60 M, or 2190 M bands.

All operation log files for the week must be consolidated into one ADIF file and sent to the state coordinator, to be uploaded to LoTW.
Volunteers Point Value Table
· Note: These appointments are for current appointees unless otherwise noted. Eg: Assistant Director (AD) is only for the current Assistant Directors. Past office-holders and appointees are only eligible if the title listed includes the word "Past," such as "Past Section Manager (PSM)."
| | | |
| --- | --- | --- |
| Abbreviation | Full Position/Title Name | Point value |
| PRES | ARRL President | 300 |
| PE | President Emeritus | 275 |
| PP | Past President | 275 |
| HVP | Honorary Vice President | 250 |
| VP | ARRL Vice President | 250 |
| DE | Director Emeritus | 225 |
| DIR | Director | 225 |
| PVP | Past Vice President | 225 |
| VD | Vice Director | 200 |
| SM | Section Manager | 175 |
| OFF | Staff Officer, Treasurer, Counsel | 150 |
| PD | Past Director | 150 |
| PV | Past Vice Director | 125 |
| ARRL | W1AW ARRL HQ Station | 100 |
| CLM | ARRL Charter Life Member | 100 |
| PSM | Past Section Manager | 100 |
| DM | ARRL HQ Department Manager | 75 |
| HQ | ARRL HQ Staff Member/Volunteer | 50 |
| MAX | Maxim Society Member | 50 |
| AC | CAC/DXAC/ECAC Advisory Members | 40 |
| AD | Assistant Director | 40 |
| ARDF | Direction Finding Coordinator | 35 |
| ASM | Assistant Section Manager | 35 |
| EMC | Electromagnetic Compatibility Committee | 35 |
| LOTW | Logbook of the World Committee | 35 |
| PRC | Public Relations Committee | 35 |
| RF | RF Safety Committee | 35 |
| YC | Youth Committee | 35 |
| ACC | Affiliated Club Coordinator | 30 |
| DEC | District Emergency Coordinator | 30 |
| NCJ | NCJ Editor | 30 |
| PIC | Public Information Coordinator | 30 |
| QST | QST Columnist | 30 |
| SEC | Section Emergency Coordinator | 30 |
| SGL | State Government Liaison | 30 |
| STM | Section Traffic Manager | 30 |
| SYC | Section Youth Coordinator | 30 |
| TC | Technical Coordinator | 30 |
| DC | Diamond Club Member | 25 |
| LAB | W1INF Lab Museum Operations | 25 |
| LC | W1HQ HQ Operations | 25 |
| CM | Contest Managers/Log Checkers | 20 |
| QSM | Incoming QSL Bureau Manager | 20 |
| VC | Volunteer Counsel | 15 |
| VCE | Volunteer Consulting Engineer | 15 |
| ADC | Area Digital Coordinators | 12 |
| ADEC | Assistant District Emergency Coordinator | 12 |
| ANM | Area Net Manager | 12 |
| ASEC | Assistant Section Emergency Coordinator | 12 |
| ASTM | Assistant Section Traffic Manager | 12 |
| BM | Bulletin Manager | 12 |
| EC | Emergency Coordinator | 12 |
| LGL | Local Government Liaison | 12 |
| OBS | Official Bulletin Station | 12 |
| OES | Official Emergency Station | 12 |
| ORS | Official Relay Station | 12 |
| PIO | Public Information Officer | 12 |
| RNM | Region Net Manager | 12 |
| TCC | Transcontinental Corps Directors | 12 |
| TS | Technical Specialist | 12 |
| TA | Technical Advisor | 10 |
| NM | Net Manager | 7 |
| AM | Awards Manager | 5 |
| CC | Card Checker | 5 |
| INST | Registered Instructor | 5 |
| State Abbrev | W1AW/x around the USA (work each state twice) | 5 |
| VE | Volunteer Examiner | 5 |
| QSL | Incoming QSL Bureau Sorters | 3 |
| LM | ARRL Life Member | 2 |
| AFF | ARRL Affiliated Club Call Sign | 1 |
| MEM | ARRL Member | 1 |
* * *

New Idaho ARRL Section Emergency Coordinator Announced


Idaho ARRL Section Manager Dan Marler K7REX has announced the appointment of a new Section Emergency Coordinator (SEC) for Idaho. Mike Neelon, WA7MGN

lives in Moscow, Idaho and is the Latah County Emergency Manager. Neelon will take over the SEC position immediately.

Mike is a member of the "

Do Something Amateur Radio Club" (DSARC),

an active ham and heavily involved with disaster communications. He loves being in the field and is looking forward to visiting Idaho's Amateur Radio Clubs.

He is also available to attend your club and ARES Zoom meetings, and of course you can always reach out to him via phone or email WA7MGN @gmail.com.




Mike is an Experienced Service Coordinator with a demonstrated history of working in the public safety industry. He has been working since 2014 as a county Emergency Manager in North Central Idaho. He is also an instructor teaching Incident Commands Principles for the State of Idaho. Prior to his emergency management job, he worked 13 years as a county Sheriff's Deputy and 18 years as an Emergency Medical Technician.


Mike has also been part of various response teams and committees which include Search and Rescue, Amateur Radio Emergency Services (ARES) and is currently working to help re-establish a Community Emergency Response Team in Latah county. He is currently the Executive Chair for the North Idaho Healthcare Coalition which serves the 10 northern Idaho counties.


Mike has an Associate of Science degree focused on Crisis/Emergency/Disaster Management from Idaho State University, an Associate of Arts degree focused on Liberal Arts from Lewis-Clark State College and various certificates from Emergency Management Institute and other FEMA related training facilities.

You can learn more about Mike Neelon by visiting his QRZ.COM page.

* * *

Idaho Section Manager Dan Marler K7REX k7rex@arrl.net

For reporting Idaho Silent Keys (SK): Send an email to SK@IdahoARRL.info
Go to https://www.idahoarrl.info/skreport.html for details.

We have ARRL Idaho Assistant Section Managers (ASM) located at several Idaho geographical locations to serve you better. We want to know how the ARRL can assist you. You don't need to be an ARRL member to be heard. What you have to offer, benefits all of us.

Idaho ASM's:

Rob Blout KA7ERV, Boise/Valley County ka7erv@arrl.net
Marty Edwards AK7ME, Rigby ak7me@arrl.net
Kelly Klaas K7SU, Twin Falls kelly@K7SU.com
Don Lynn ND7L, Nampa nd7l@arrl.net
Robert Minton NU7L, Boise rjm@interplus.net
Doug Nielson N7DN, Idaho Falls n7dn@arrl.net
John Ailport K7BSV, Sandpoint John.Ailport13@comcast.net
Chris Trouten WA7ZAF, Mountain Home wa7zaf@arrl.net
Mike Brown, N7ID, Moscow/Troy area n7id@arrl.net

We have three ARRL State Government Liaisons (SGL) in Idaho. SGL's are the ones who have our backs. They are there to be sure the hams get a fair deal when it comes to government ordinances and laws.

Idaho SGL's:

Rex Green, K7DMV - trgreen1947@gmail.com
Don Clower, KA7T - donka7t@gmail.com
Mike Brown, N7ID - n7id@arrl.net